The Candaba Bridge, though lesser known than the Baluyot Bridge, is however, just as important. Candaba, after all, is a major farming and fishing community, and as it is a low-lying, marshy town, its fisherfolks and farmers depended much on water transport for the delivery of their catch and their various. The building of Candaba Bridge sought to make the flow of commerce quicker and more efficient for the community.
Spanning the Pampanga River, the Candaba Bridge was a major project of the Bureau of Public Works, supervised by a platoon of American highway engineers. It suffered extensive damages in the Second World War but was rebuilt after the war with a grant from the United States. Construction of Candaba Viaduct (Median) is a project by the Manila North Tollways Corporation (MNTC). First Balfour Inc. is the General Contractor and VSL Philippines Inc. is the Sub-Contractor for the installation of Median Girders.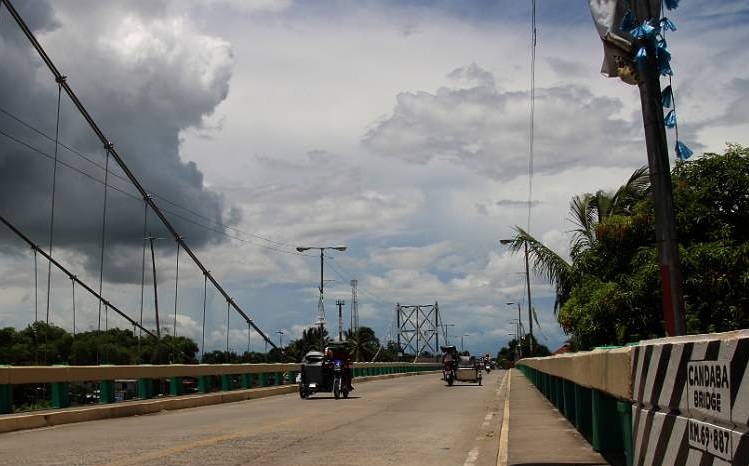 In its time, the Candaba Bridge was truly a building masterpiece, sleek and streamlined, with its load-bearing deck hung below cables on vertical suspenders. From a distance, the bridge seemed to float miraculously on air. It is the same type as the Golden Gate Bridge of San Francisco in California, leading many to believe that the Candaba Bridge was patterned after the design of the famous American bridge completed in 1937.
STRENGTHENING/RETROFITTING OF NLEX CANDABA BRIDGE 
 
During implementation, problem encountered after installation of 120 Girders. ALAI found out that 20 Girders in lay bay 2 and 3 Girders in lay bay 4 did not reach the jacking force required design of 1685 KN/duct. The actual jacking force provided by the contractor is only 1650 KN/duct.
After series of inspection, investigation and coordination meeting, ALAI recommended to use the TORAY UT70-60G Carbon Fiber Sheet (CFS) 600gsm to strengthen and compensate the loss of strength of the girders. Strengthening/Retrofitting of the NLEX Candaba Bridge (23 Girders)
 
Location: Candaba, Pampanga
Client: VSL Philippines Inc.
Date Started: December 02, 2016
Date Completion:

January  07, 2017
ALAI recommended to use the TORAY UT70-60G Carbon Fiber Sheet (CFS) 600gsm to strengthen and compensate the loss of strength of the girders. Strengthening/Retrofitting of the NLEX Candaba Bridge (23 Girders)
1. Removal of loose materials, and Concrete Plaster by means of chipping and grinding.
2. Application of Carbon Fiber Sheet (CFS) with Chemical Epoxy resins
3. Restoration of bottom slab, girder and beam on Affected by Carbon Fiber Sheets (CFS) Application
4. Protective Coating for concrete Structures (Skim Coat)/ Plastering Works
5. Painting Works (Masonry, and Concrete)