william a. jones memorial bridge
The William A. Jones Memorial Bridge, commonly known as the Jones Bridge, is an arched girder bridge that spans the Pasig River in the City of Manila, Philippines. It is named after the United States legislator William Atkinson Jones, who served as the chairman of the U.S. Insular Affairs. A temporary Bailey bridge was constructed to allow traffic to access both sides of the Pasig and within a couple of years, the new Jones Bridge was built. The bridge was reconstructed after World War II through the Philippine Rehabilitation Act of 1946.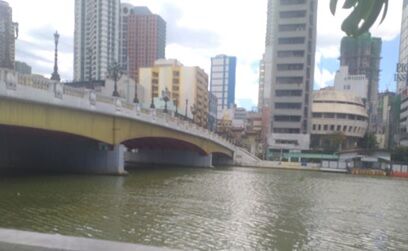 Following the passage of the Philippine Rehabilitation Act of 1946, the Philippine Bureau of Public Works and the U.S. Bureau of Public Roads reconstructed the Jones and Quezon bridges using large and deep steel girders. Upon its completion, none of its original ornamentation on either piers and balustrades were restored, and its neoclassical aesthetic were replaced with an unadorned architecture in an urgent haste to finish its reconstruction. Manila Mayor Isko Moreno announced plans to "restore" the Jones Bridge to its near-original architecture, including the return of the three surviving sculptures that had previously guarded the bridge.
RETROFITTING / STRENGTHENING OF PERMANENT BRIDGES; JONES BRIDGE (B03326LZ)

Retrofit and repair works were also done at the steel girders of the bridge. Due to restoration project of the bridge,

The overall condition of existing structure of the bridge was found out to be in poor condition.

DPWH decided to retrofit the abutment wall and slab.

The bridge was subject for retrofitting/strengthening using fiber reinforced polymer (FRP). Retrofitting/Strengthening of the bridge includes crack repair using epoxy injection/mortar and strengthening of bottom slab and beam/girder using Carbon Fiber Sheet (CFS). With its retrofitting/strengthening, the bridge has reached its maximum capacity of 20 tons.




Location:

Binondo Manila
Client: Flordes Construction and Trading Corp.
Date Started: May 5, 2021
Completion Date: July 3, 2021
Retrofitting/ Strengthening of bottom slab and beam, girder using Carbon Fiber Sheet (CFS). Carbon Fiber Reinforced Polymer are lightweight, high strength systems for reinforcing concrete and masonry steel structures. This provides for a rapid construction schedule and a minimal disruption to an operating facility. It consists of carbon and glass fabrics that are impregnated with the quality resins to form laminate that is externally bonded to the element to be strengthened. To increase the load capacity of the bridge.
1. Removal of loose materials, and Concrete Plaster by means of chipping and grinding.
2. Application of Carbon Fiber Sheet (CFS) with Chemical Epoxy resins
3. Restoration of bottom slab, girder and beam on Affected by Carbon Fiber Sheets (CFS) Application
4. Protective Coating for concrete Structures (Skim Coat)/ Plastering Works
5. Painting Works (Masonry, and Concrete)