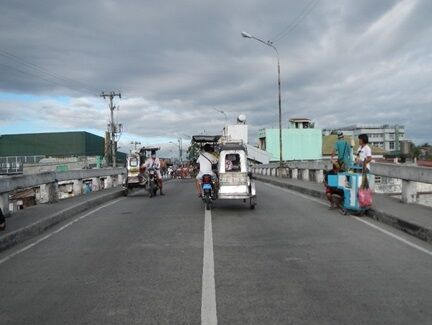 The Tanza Bridge is a road bridge in Malabon. This bridge boundary is Situated in Tanza 2 Close to tricycle stop. Tanza Malabon Boundary Bridge is a bridge in Malabon. Tanza Malabon Boundary Bridge is situated east of Navotas River, and northwest of Dagatdagatan Lagoon.
RETROFITTING/STRENGTHENING OF BRIDGES: TANZA BRIDGE (B0175LZ)

Overall condition of existing structure of the bridge was found out to be in poor condition. The bridge was subject for rehabilitation using Carbon Fiber Sheet (CFS)

Rehabilitation of the bridge includes crack repair using epoxy injection/mortar and strengthening of girder & pier column, coping beam using Carbon Fiber Sheet (CFS).

Location: Along Road to Tanza, Navotas City
Client:

A. Tampengco Construction Inc.

Date Started: June 18, 2021
Completion Date: September 10, 2021
The Tanza bridge load increased and the girder board appeared crack and so on because of the large amount of traffic and the loading of vehicles. The bridge was retrofitted to its best quality by the application of Carbon Fiber Sheets and Plates around the girders of the bridge.
1. Removal of loose materials, and Concrete Plaster by means of chipping and grinding.
2. Application of Carbon Fiber Sheet (CFS) with Chemical Epoxy resins
3. Restoration of bottom slab, girder and beam on Affected by Carbon Fiber Sheets (CFS) Application
4. Protective Coating for concrete Structures (Skim Coat)/ Plastering Works
5. Painting Works (Masonry, and Concrete)