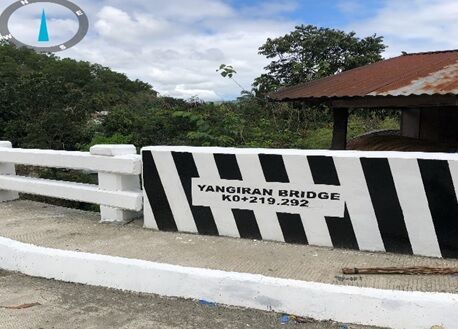 Yangiran Bridge is a 60-m long bridge located at a roadside town named Santa Fe in Nueva Vizcaya. It is near agricultural farms and tourist destinations.
RETROFITTING /STRENGTHENING OF PERMANENT BRIDGES-YANGIRAN BRIDGE

Upon investigation, there were structural cracks found on the girders of the bridge. The bridge was retrofitted to its best quality by the application of Carbon Fiber Sheets (CFS) and Carbon Fiber Plates (CFP) around the girders of the bridge.

Location: Santa Fe, Nueva Vizcaya

Client: Jann Norris Construction & Supplies Inc.,

Date Started: February 21, 2019

Completion Date: March 23, 2019
The bridge was subject for rehabilitation using Carbon Fiber Sheet (CFS). It consists of carbon and glass fabrics that are impregnated with the quality resins to form laminate that is externally bonded to the element to be strengthened. Strengthening on bottom slab, using of UT70-30g 300 gsm Carbon Fiber Sheet (CFS), and Carbon Fiber Plate (CFP) To increase the load capacity of the bridge.
1. Removal of loose materials, and Concrete Plaster by means of chipping and grinding.
2. Application of Carbon Fiber Sheet (CFS) with Chemical Epoxy resins
3. Restoration of bottom slab, girder and beam on Affected by Carbon Fiber Sheets (CFS), and Carbon Fiber Plate (CFP) Application
4. Protective Coating for concrete Structures (Skim Coat)/ Plastering Works
5. Painting Works (Masonry, and Concrete)