The Carmen Bridge is the one of the oldest Bridge in Cagayan De Oro City. Was commonly called as carmen bridge because this bridge leads to carmen and is one of the bdridges that connect the East and West part of Cagayan De Oro City. The bridge, at the time, was bit unstable and made of bamboo. not long after, it was reconstructed and it became a hanging or suspension bridge. then on several, improvement have been made. From suspension bridge. It Became fully concrete on August 26, 1931.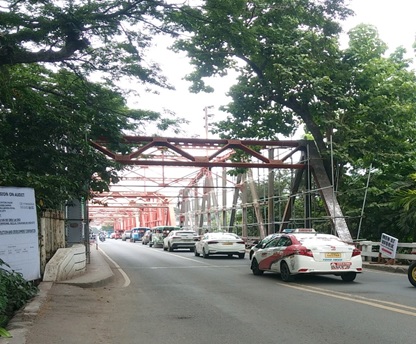 The iconic First bridge in Cagayan De Oro City was made romantic, as the city Government officially lit up the Carmen Bridge with colorful Lights in circle on the night of Valentine's Day, February 14. Kagay-anons flocked to the bridge to take photo,selfies and groufies, following the ceremonial switching-on of the lights. The crowd found the bridge "tsada" or amazing, saying it was improved and became an added attraction to the people.
REHABILITATION/MAJOR REPAIR OF PERMANENT BRIDGES, CARMEN STEEL BRIDGE  (B013531MN)
 

After series of inspection, investigation. The condition of steel structure is corroded. The planning and design section of the DPWH 1st District Engineering Office - DEO recommended to used Carbon Fiber Plate (CFP) to Strengthen and compensate the loss strength of the steel stiffener beam. During implementation, problem encountered. the crack repair of bottom slab is almost done. Engr. Efren of ESR construction request a walkthrough meeting on site with DPWH 1st Department Engineering Office - DEO, regarding to our contract for crack repair. After our walkthrough meeting and inspection Engr. Denrich Bactong Project Engineer was found out the major crack and spalled concrete on the side walk bottom slab. Engr. Denrich decide to move the crack repair on the side walk bottom slab. using pressurized Epoxy Injection on crack and epoxy Putty on spalled concrete.

 
Location: Along Carmen-Patag-Bulua Road, Brgy. Carmen, Cagayan De Oro City
Client: ESR Construction & Development Corporation

Date Started: June 06, 2022

Completion Date: September 17, 2022
The bridge was retrofitted by RMBRCI to its best quality by the application of Carbon Fiber Reinforced Polymer (CFRP), and Carbon Fiber Plate (CFP) on steel Stiffener beam, and bottom slab, Includes crack repair using Epoxy Injection/Mortar. 
1. Removal of loose materials, and Concrete Plaster by means of chipping and grinding.
2. Application of Carbon Fiber Sheet (CFS) with Chemical Epoxy resins
3. Restoration of bottom slab, girder and beam on Affected by Carbon Fiber Sheets (CFS) Application
4. Protective Coating for concrete Structures (Skim Coat)/ Plastering Works
5. Painting Works (Masonry, and Concrete)